The 2023 London Marathon was the 43rd edition of the annual running event in London. The marathon took place on 23rd April and was the third race of the World Marathon Majors 2023.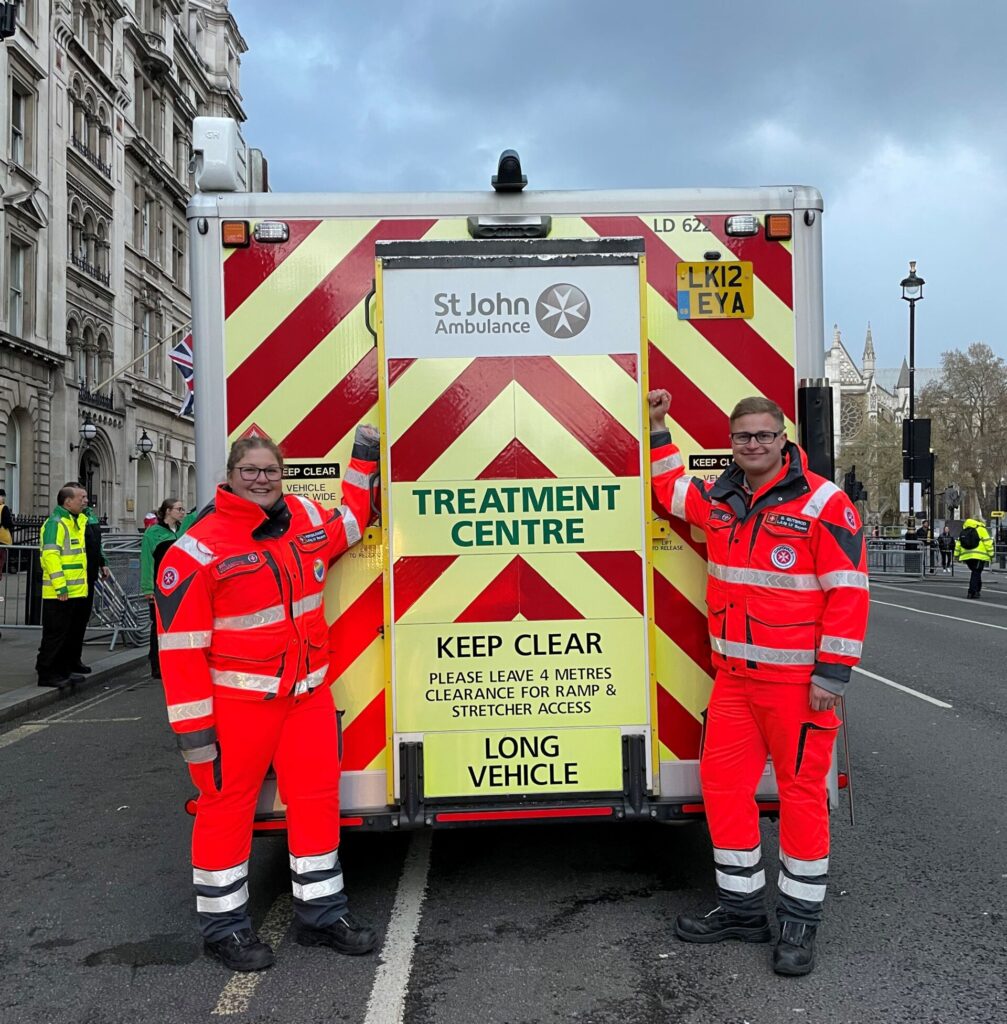 St John Ambulance had hundreds of volunteers on standby throughout the track to support the runners with any first aid needs, and some of its own fundraisers were running for St John Ambulance.
Our English member was joined by two of their German colleagues. Read the report by Isabella Portenlänger and Gregor Gutbrod below:
"Hello! We are Isabella and Gregor from Bavaria, and we supported St John Ambulance for the London Marathon on 23rd April. In two multi-national teams of three people based near the treatment centre in front of the Victoria Tower, they were able to ensure that the participants of this fantastic sports event received medical support if it was necessary. After we all introduced ourselves, we got the tactical briefing from our treatment centre manager, Hester. Afterwards, we checked our equipment and talked about what could happen. However, if you are a medic in Germany or in England – the procedures for the treatment of an incident are still the same! But usually, you do not work in an international team far away from your main environment. Thank you, guys, for making us feel welcome all the time; we are very proud to be a part of the team! It`s a pleasure having met you and further working with you!
In my opinion, the opportunity of a Volunteer Swap must be taken by more volunteers of the JOIN family because you can "think outside the box" and see how other groups treat their incidents (Gregor said). Human- and similar medicine is all over the world the same – nevertheless, it is an unbelievable benefit for your own actions and reflections – we both regularly work in the rescue service in addition to our voluntary work with Johanniter – to see and experience how other colleagues practice emergency medicine tactically and practically."