From 7th to 10th June the Sweden Rock Festival took place outside the city of Sölvesborg in the south of Sweden. Johanniterhjälpen was joined by three English and two German volunteers who together provided first aid to the spectators of the annual open-air music event.
Tina Colwell from St John Ambulance reports about her experience at the Volunteer Swap in Sweden: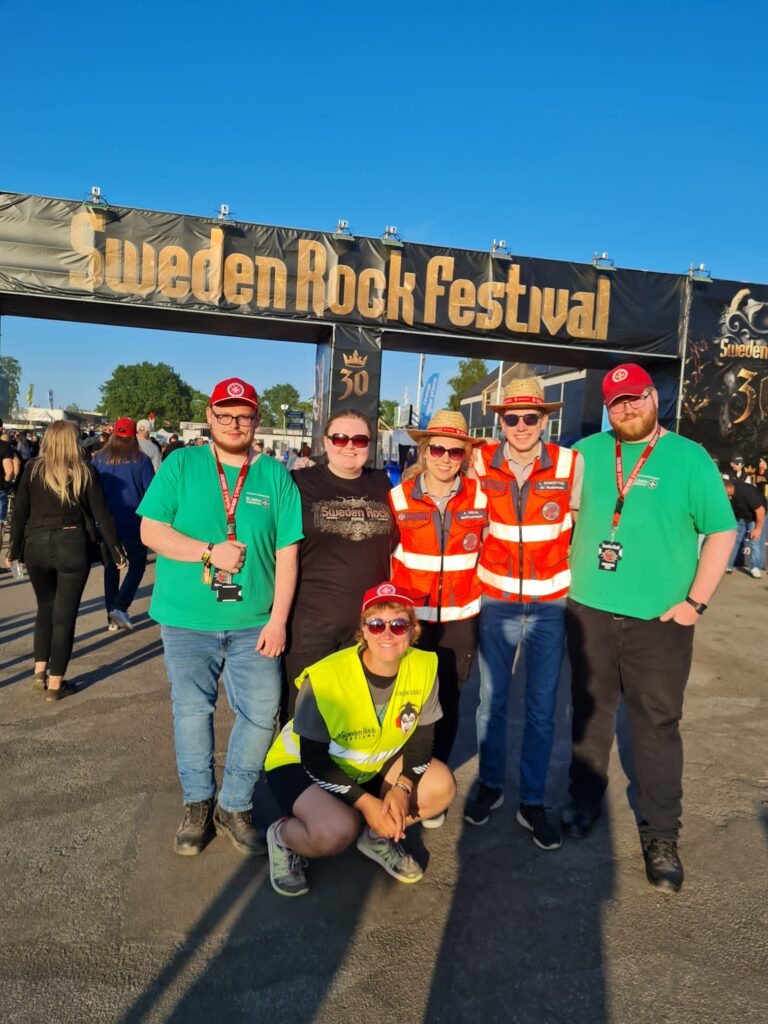 "After arriving in Sweden in the afternoon the Monday before the festival I met up with one of the other volunteers from England. We hadn't met before as he volunteers in the East Midlands, and I am based in the South West but we soon caught up and exchanged volunteering stories which were surprisingly similar for opposite sides of the country! 
The next morning, we met up with a couple of volunteers from Johanniterhjälpen for breakfast. We discussed the size and structure of both of our organisations as well as what our respective clinical levels enable us to do. It was really interesting to hear the size and scope of Johanniterhjälpen as well as to hear how Johanniter works at the Rock Sweden Festival. 
Johanniterhjälpen seems a smaller organisation than St John England, with the majority of their volunteers based around Stockholm and a few in Southern Sweden. Their volunteers are all 18 + and they do not have a youth section. As such their priorities, training and focus are all on early defibrillation and haemorrhage control. The main aim of their organisation is to promote CPR and defibrillation.  
Within the rock festival Johanniterhjälpen is present so that action can be taken immediately while the main medical provider, who is based outside the festival grounds, makes their way to the patient. All minor medical ailments which cannot be treated with the first aid kit available (bandages, plasters, ice packs, saline) are instructed to make their own way to the external medical tent. I've also learnt that other than Sweden Rock Festival, Johanniter deals mainly with marathons and races. This is quite a contrast with St John England where we would be the main medical providers who treat all patients at the point of contact for all ailments and injuries, with our kits including advanced trauma and airway kits as well as medicines. Discussing the training requirements for my role (Emergency Ambulance Crew) the Johanniterhjälpen volunteers expressed surprise at the duration of the training requirements for EAC. Johanniterhjälpen as a smaller organisation does not require their volunteers to wear uniforms, only a red Johanniterhjälpen baseball cap and a yellow hi-vis vest pertaining to the event they are covering where we have a full uniform policy with different uniforms for different areas (ceremonial, cycle response and service delivery for example).
For the festival shifts, we were to be paired with two public hosts, who were volunteers familiar with the festival rather than Johanniter volunteers. This was quite a strange feeling for us (from SJA England) as we have a 'no solo working' policy – although we were not actually alone (which was helpful for the fact that the Swedish I had managed to learn in the 46 days between being successful at application and arriving in Sweden was minimal, to say the least) we were the only immediate first aid resource within the group of 3 walking around our allotted area. I was very fortunate that my hosts for 3 out of the 4 days were two paediatric emergency department nurses who gave for very interesting discussions about emergency medicine and differences between England and Sweden including titles of healthcare professionals and their relevant training.
The patients I saw and treated throughout the festival included small cuts and bleeding, wound cleaning, falls and sprains, a query spinal injury and an anaphylaxis. With the hosts, we also checked under 13s were wearing the correct ear protections, called security for those who had imbibed a bit too much and provided information to guests (i.e. where the toilets and water were located –  it was amusing to see that some things are common across events wherever you are in the world!) 
Also volunteering at the event were two volunteers from Johanniter Germany who we managed to chat with and it turns out other than having orange and grey uniforms, their organisational structure seems very similar to ours. The volunteers we met were 'paramedic' and 'advanced paramedic' levels – with 'paramedic' translating to our EAC skillset but without our range of medications but with the ability to cannulate to give fluid; and 'advanced paramedic' being equivalent to our HCP Paramedic level. They had a similar app to our JRCALC and would respond to incidents in a similar fashion to SJA England. They also discussed their different-sized ambulances and the combinations of crew and what they would attend to based on the skill combination! It was fascinating to learn about our similarities and differences and we ended the week by inviting each other and Johanniter Sweden volunteers to our home cities and our events which would normally be JOIN opportunities. 
My favourite thing about this exchange opportunity was the chance to connect, talk with and learn from strangers from across the world – strangers united by our mutual volunteering with St John Ambulance. I love how we can have a connection with people we've never met simply based on our volunteering. My hosts taught me more Swedish words and taught me about 'fika' – a tradition I'm keen to embed into my daily routine! Everyone I met was incredibly friendly and as keen to talk about their organisation as they were to learn about what we do in England. I leave the exchange with more knowledge, fantastic experiences and new friends."