From 16th to 25th June 2023, the Special Olympics World Games took place in Berlin where thousands of athletes with intellectual disabilities competed together in 26 summer sports. The Games are the world's largest inclusive sporting event and were for the first time held in Germany. As host of the 16th World Games, Berlin welcomed 7.000 athletes from 190 delegations and 20.000 volunteers for 9 full days of sports and emotions. Johanniter's regional association of Berlin provided medical services at the Games and was joined by Euan from St John Ambulance who travelled from Nottingham to the event. Here is what he reports: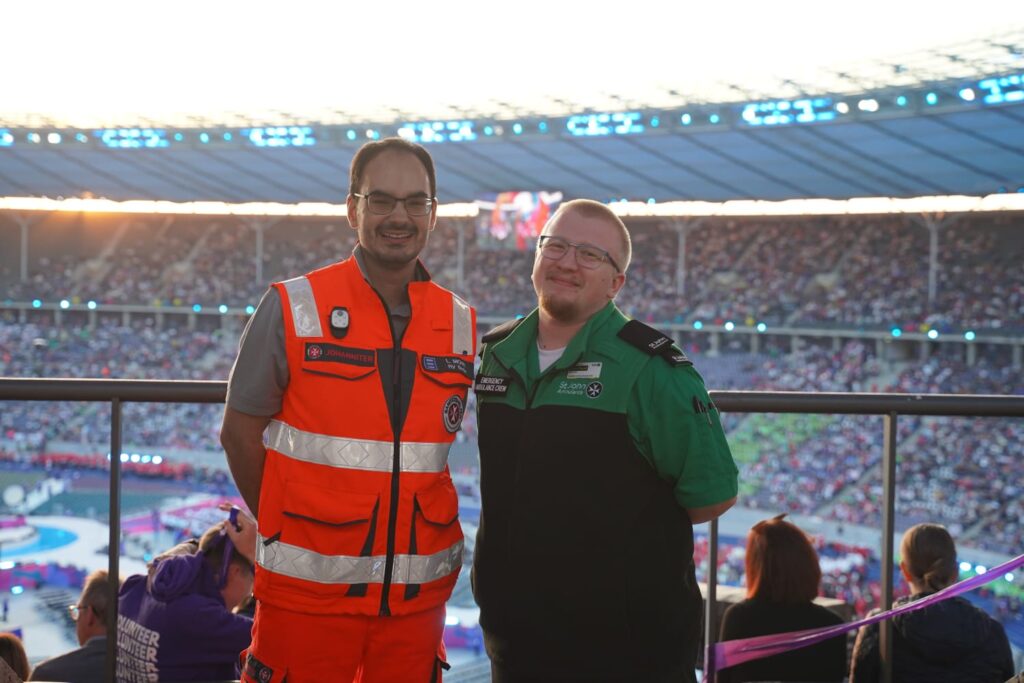 "I am Euan, a St John Ambulance volunteer from Nottingham, United Kingdom. In June 2023, I was fortunate to participate in a JOIN Volunteer Swap to attend the Special Olympics World Games in Berlin, Germany. Although there were many opportunities to volunteer this year, I was particularly drawn to this event as I felt it brought together many different elements of equality, diversity and inclusion (and I've always been a fan of the Olympics, Paralympics and Special Olympics!). During my visit, I was very kindly looked after by 'Johanniter-Unfall-Hilfe e.V' (or simply, Johanniter) – the German sister organisation of St John Ambulance- who made me feel very welcome, and even took the time to show me around their unit.
There, I started to learn about how Johanniter operates as a volunteer organisation which variates largely depending on which district you find yourself in! In Berlin, for example, Johanniter is responsible for disaster protection and humanitarian aid and has special equipment to temporarily provide care and welfare for large numbers of individuals. In Berlin, Johanniter volunteers are able to volunteer in many different ways, such as in Cycle Response Units (CRU) or even Motorbike Response Units! I was particularly interested to learn that the ambulance service and structure differ greatly from those in England. In Berlin, the ambulance service is managed by the fire service, and a majority of their paramedics are serving firefighters! As Emergency Ambulance Crew (NQ) for St John Ambulance, I took interest in the scope of practice for Johanniter volunteers. The variation in the responsibility for Johanniter staff differs greatly depending on their region – in Berlin for example, although ambulance staff and paramedics can give some medications, most medication administration is reserved for 'Emergency Doctors'… this did make me worry about what might happen if an athlete needed effective pain relief, but I was reassured that there are a lot more mobile Emergency Doctors in Germany (and, fortunately, during the Games there was very minimal trauma)!
The Special Olympics World Games was a complex event and required over 1,000 Johanniter volunteers during the course of the games. During the Games, I was able to provide assistance at events such as the opening ceremony, futsal, cycling, equestrian and even for a Special Olympics event at the Berlin Zoo! I greatly enjoyed getting to spend time engaging with Johanniter volunteers, as well as the athletes, family members and members of the public. I also learnt about the wider aspects of volunteering in Germany, from a team of Maltesers (another medical charity) from Leipzig, who taught me about their responsibilities in their local district.
There was a lot to learn during my time in Berlin, and I will definitely take this forward in my practice, both clinically and personally. As a Mental Health Advocate for St John Ambulance, I was keen to hear about the resources available to Johanniter volunteers. I spoke with a Johanniter volunteer, who runs the Berlin CRU unit and has established good connections in London with the local CRU unit there. I was pleased to hear that since participating in these Volunteer Swaps with St John Ambulance, they had learnt the importance of welfare and have begun to implement this into their management style – regularly checking in on volunteers and ensuring there are appropriate provisions and rest for volunteers whilst on events. I enjoyed sharing some more ideas and will look forward to keeping in touch to see how this is going! I think that I was able to take away some serious learning points from my time in Berlin, too. Although more St John Ambulance volunteers were interested in this swap, I was the only volunteer that came from England. This experience was not only my first flight, but my first time in a foreign country (if we don't count Disneyland when I was younger!), and all of this was done alone. I was very privileged in the fact that I speak English, as this is quite a popular second language, but even with this I soon realised how difficult life can be when you are in an unfamiliar place, with unfamiliar people, and with an unfamiliar language. I managed to get through the week quite well, but there were some moments when I found myself worried or confused. This was a reflective moment, particularly clinically, as I can only imagine how difficult and scary it can be for patients who find themselves in this situation – I will definitely take this feeling forward and take even greater care in my treatment under these circumstances! Overall, I am incredibly thankful to Johanniter International, Johanniter Germany and all of the many volunteers that made me feel so welcomed and appreciated during my visit, you were wonderful hosts and hopefully, I will visit again one day!"