From 16th to 24th June, many colleges at the University of Cambridge threw extravagant parties for their students that run from early evening to shortly after dawn to celebrate the end of the exam period. These festivities are called May Balls, despite occurring in June, and provide unlimited access to entertainment, from musical acts, to magic shows and fairground rides. St John Ambulance provided first aid for around 20 different balls and parties over the course of the week and was supported by Larissa, a volunteer from Johanniter Germany. Read her report about the Volunteer Swap event below: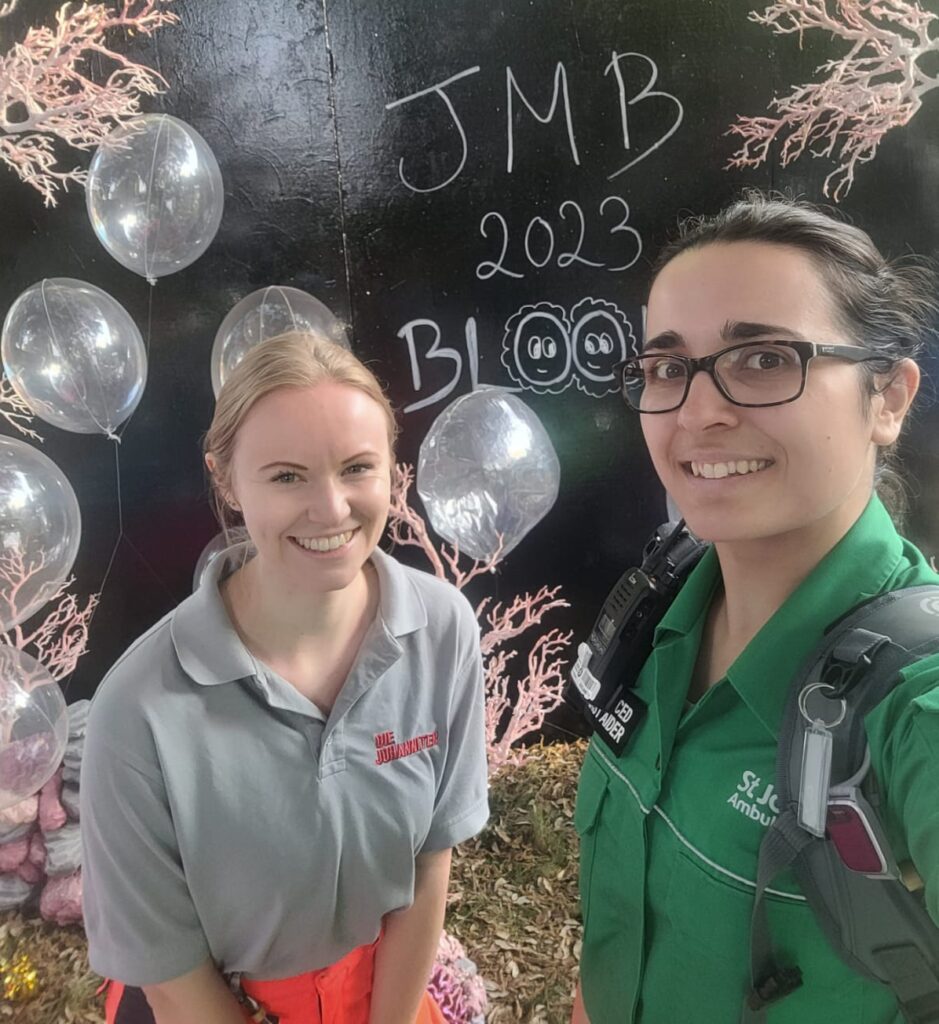 "In June 2023, I spent one week in Cambridge to cover three of the famous May Balls with St John Ambulance. The May Balls are a tradition in Cambridge, where students from various colleges celebrate the end of the exam period. After weeks of studying and hard work, the celebrations with great music, good food and lots of friends are a real reward. I was very excited to see it for myself! My first May Ball this year was a very big event. It was hosted by Jesus College and there were about 3.000 guests. We were there from the beginning of the ball, when the guests were still queuing outside and we stayed until the end, when the last guests left in the morning and enjoyed the glorious sunshine after a long night. 
There were two first aiders and two advanced first aiders from St John Ambulance with me at the event. We had about 35 patients, so there was a lot going on! It was very insightful to work with the British colleagues and I learned a lot about their procedures.
When our help was not required for a few moments, we had time to look around. The old College buildings and the lovely gardens were really impressive. There were different stages with bands and DJs, something for every taste in music. The guests were celebrating happily and the mood was upbeat and pleasant. We were also allowed to try food from the numerous food trucks, especially the ice cream was a highlight. After this experience, we had to take a rest and we all slept until the afternoon. One really becomes nocturnal!
Next, we went to Magdalene College Ball. The College is right next to the River Cam and has beautiful winding courtyards – not so easy to manoeuvre when you have to transport patients to the first aid room. It was a white-tie event, which means the guests were dressed particularly fancy. We saw a lot of gorgeous dresses! The third ball was the smallest, organised by Darwin College. It had the theme 'Orient Express'. They had only vegan food – totally delicious! This college is also next to the river and guests could go 'punting'. That means you can go on long boats; they are built a bit like the gondolas in Venice. We only had a handful of patients here and were able to observe the hustle and bustle at the ball in peace and had great conversations.
By the way, our Johanniter dinosaur, the mascot of my unit in Germany, was also there! We had a lot of fun and enjoyed the week immensely, thank you for the wonderful experience. :)"