Sveta Jana Palidziba is providing different social services to the population. Among its activities, our Latvian JOIN member is running a daycare centre for mentally challenged people. The work is conducted by employees as well as volunteers. From July to August, volunteers are welcome to help with care including playing games together and accompanying trips to the countryside.
Luke Middleton from St John Ambulance travelled to Riga and joined our Latvian member at the day centre from 15th to 22nd July.
Here is what he reports:
"In July 2023, I participated in a JOIN volunteer swap to the Latvian arm of St John Sveta Jana Palidziba where I was working in a day centre for adults with learning difficulties and mental health conditions. I was attracted to this volunteering opportunity in Latvia because it demonstrates the wider ethos and scope of charities across the orders of St John and Johanniter. Sveta Jana Paldiziba is a social care charity that primarily focuses on delivering passionate and effective care to the local community and people who most need it. In contrast, St John Ambulance primarily focuses on the provision of first aid and medical care. Personally, I am also currently training to be an Occupational Therapist therefore it was a great experience to share and learn new skills both personally and professionally whilst exercising the HEART values of St John.
I arrived in Riga where I took a taxi to my accommodation close to the centre of Riga within 15 minutes of the old town, this was my first time travelling to Latvia and my first time travelling alone therefore at first I did not know what to expect. I arrived on Saturday before commencing work in the day centre on the following Monday, this allowed me plenty of time to get used to my surroundings and explore the amazing culture and atmosphere of Riga. I joined a group tour on Sunday which took me to see some of the main attractions of Riga around the old town and away from the city centre including Riga Central Market, The House of Blackheads, St Peter's Church and the Swedish Gate. This was a really good experience to understand the culture and history of Latvia enabling myself to share my experiences with the service users many of whom have lived in Riga for many years.
On Monday, I was picked up from my hotel by Ieva Zandberga, Deputy Director, of Sveta Jana Palidziba and her colleague. I was quite nervous to start with however upon arrival I had a very warm welcome from service users and staff alike. The day centre offers a range of music, art and dance therapies daily as well as supporting people to learn Latvian language and cook foods. On Monday, we had a guest speaker who works for a company that makes easy-read books, the service users were asked to feedback on how they found the books and whether they could be improved. In the afternoon, there was a music lesson where I supported the music teacher in helping to teach the service users how to play musical instruments, dance and sing. This was an enjoyable experience even though I may not be the best singer! We also spent time during the day playing games such as cards, snakes and ladders and Novuss (A Latvian twist on Billards) this was a good opportunity to meet the service users and introduce myself. There were some difficulties with language barriers with some service users keen to use google translate to translate from both Latvian and Russian language so that I could understand more about their interests and culture whilst equally sharing mine.
On Tuesday, we went on a trip to the Latvian National Museum of Art which was a very nice experience, and it was pleasurable to see the service users taking photos and enjoying the visit. In the afternoon, we had some free time before completing a cooking lesson where we learned how to cook cold beetroot soup a Latvian tradition. It was really tasty and interesting to learn the recipe for this delicacy so much that a few days later I chose beetroot soup as a starter in a Latvian restaurant. Delicious!
On Wednesday, we met at Riga central station and went on a train journey to the beach and coastal resort of Jurmala, there was a nice wide sandy beach and the weather was rather pleasant. It was nice to see the service users enjoying the beach and it was a pleasure to support them during this experience. We returned to the day centre for lunch and spent the afternoon socialising and playing games with the service users.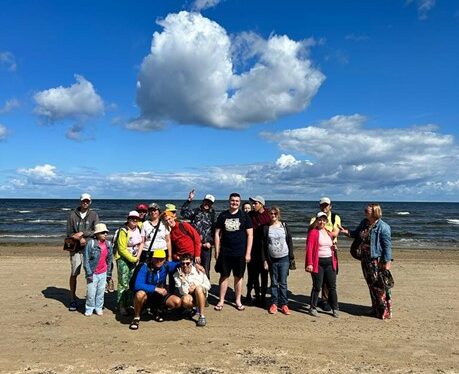 On Thursday, we went for a walk in the morning before participating in free time afterwards. In the afternoon, I taught the service users how to cook one of my favourite family recipes Chicken Fajitas, everyone enjoyed getting involved in the cooking experience and there was a queue for second portions as well! The service users reported that they really enjoyed trying Mexican-style food and were thankful for the opportunity to engage in this activity. I found it very rewarding to see the service users smile and be enthusiastic about taking part.