Johanniter Austria offers the opportunity for volunteers of all JOIN members to participate in the Patient Transport and Ambulance Service all year round.
From 24th to 31st May, Joshua, from Brighton in the UK, took part in the Volunteer Swap programme and worked for a week on the ambulance service with Johanniter in Vienna.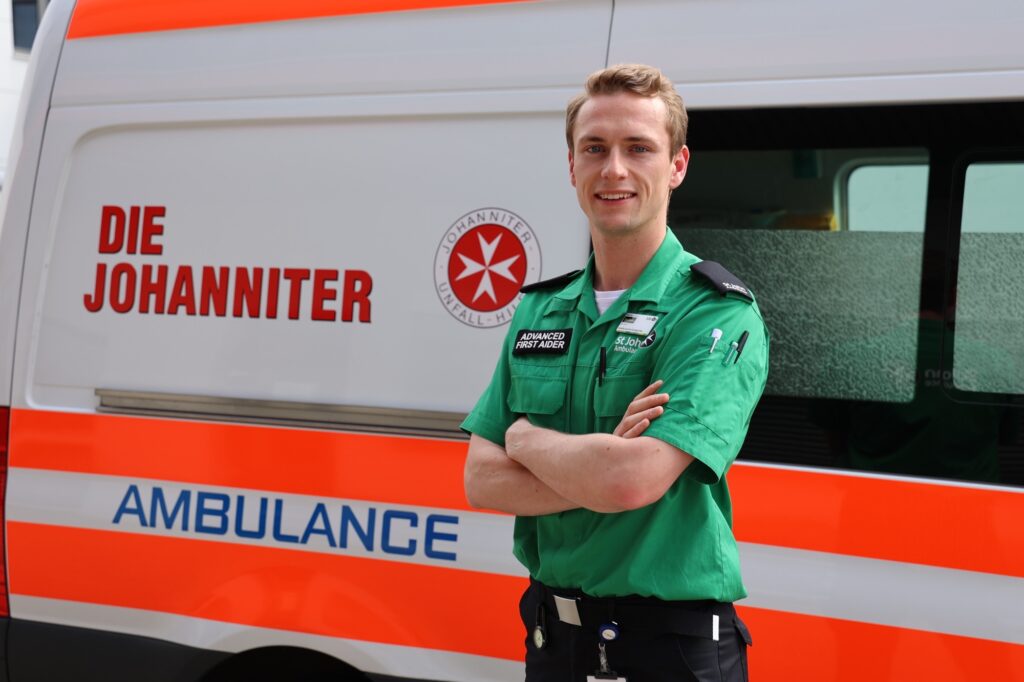 I've always wanted to learn something new and meet new people, help across borders, and get to know other organisations."
Johanniter in Vienna provides a 24/7 patient transport and emergency medical service throughout the whole city of Vienna. Scheduled patient transports to and from the hospital or doctors' offices are common. The ambulance car, with two trained paramedics on board, also responds to emergency calls. Joshua joined the teams of both services for a week and learned about the procedures of Johanniter Austria.
The 24-year-old has been a volunteer for more than 5 years with St John Ambulance and has already completed more than 3,000 volunteer hours with the organisation. Initially, Joshua joined SJA as a so-called 'First Aider', before progressing to an 'Advanced First Aider', and has more recently qualified as 'Emergency Ambulance Crew'. Alongside this, Joshua also volunteers as part of the 'Medical Response Team' (MRT) who provide life-saving interventions to patients in both fast-paced environments and high-density crowds; such as those seen at marathons and festivals.
Together with his fellow volunteers, he ensures the safety and care of visitors at numerous events across the country – from local school fetes through to large events such as the London Marathon, Notting Hill Carnival and Brighton Pride. During the COVID-19 pandemic, after special training, both himself and the team in Brighton even stepped up to support the country's National Health Service by providing care for patients at the Royal Sussex County Hospital.
During his time in Vienna, Joshua was paired up each day with two fellow Johanniter colleagues on either a KTW (Kranktransportwagen) or Rettungstransportwagen (RTW), which roughly translates to a patient transport vehicle or a medical response vehicle – the service in Vienna would put out approximately 45 trucks each day across the city during peak times, with approximately half this number during nights and weekends.
"We would often be taking patients to or from their hospital appointments, providing a first response to emergency calls or conveying patients into hospital at the request of a doctor – it was a hugely rewarding experience"
The city of Vienna has approximately 30 private and public hospitals, 2 medical helicopters and a range of private medical companies, including Johanniter, who work alongside the country's own 'Berufsrettung' – the equivalent of an NHS ambulance back home in the UK. 
"I was made to feel incredibly welcome during my stay in Vienna – it was a great experience and I learned a lot in my time here."
Moving forward Joshua is planning to continue with his volunteering commitments with St John Ambulance in the UK, along with undertaking further travelling and volunteering opportunities throughout the summer.
"I would highly recommend this experience to other volunteers throughout the Johanniter community!"