On 16 September, a large-scale exercise took place at the Zentrum am Berg (ZaB). A bus accident was simulated in the tunnel with several injured and two fatalities. The same scenario has already been virtually trained within the framework of the MED1stMR project. The real-life exercise helps the emergency forces and researchers to compare the training.
The scenario of a bus accident with many casualties, seriously injured people and fatalities brings complex challenges for the emergency services, fire brigade, and police. In tunnels extra attention needs to be paid to the danger of poisoning by gases or smoke and direct access to the injured is often not possible. It is, therefore, all the more important for emergency services to prepare for such scenarios and to know which measures to take to minimise the risks to the victims and their own forces.
Emergency forces of Johanniter, Malteser, Arbeiter-Samariter-Bund, motorway police, and the volunteer fire brigade of Inzersdorf im Kresmtal faced the accident scenario in Leoben, Austria on 16 September. The large-scale emergency exercise took place in Styria at the Zentrum am Berg of the University of Leoben. With several road and railway tunnels as well as a test tunnel, the research centre offers optimal conditions for exercises of this kind.
The organisation and implementation of emergency exercises are typically associated with a great deal of organisational effort and high costs. The use of Mixed Reality, the linking of virtual environments with real objects, is intended to reduce the effort required for the training of such complex emergency situations. Exercises that have been programmed once can be repeated as often as desired in order to prepare the emergency forces for complex missions in the best possible way.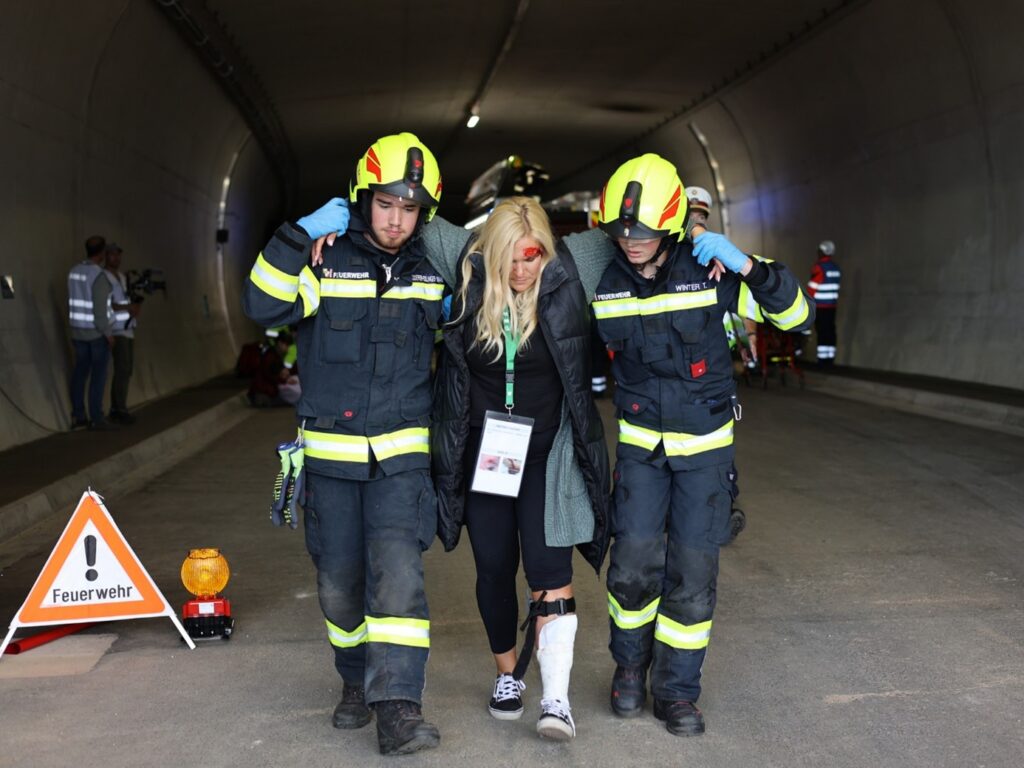 As part of a Field Trial, the bus accident was also trained virtually with the help of VR glasses, motion sensors, and simulation mannikins. In this operational real-life exercise, the same scenario was re-enacted.
"In order to be able to achieve comparable training success with Mixed Reality, a real basis for comparison must be created," explains Benjamin Schuster, employee of the Johanniter Research and Innovation Centre. The results of the exercise will be incorporated into the further development of the virtual training system of the MED1stMR project.