From 21 to 23 June, the Southside Festival in Southwest Germany saw more than 65,000 visitors throughout the event. Volunteers from St John Ambulance England and Johanniter Finland provided medical cover with their hosts Johanniter Germany.
The Southside festival is an annual music festival established in 1999 and assembles artist from multiple genres. Volunteers were in Ravensburg from 17 to 24 June. The week gave the volunteers from England and Finland, who both participated in the Volunteer Swap for the first time, a perfect setting to get to know the structure and work of Johanniter Germany, their tasks at such big events and also to explore the surrounding area of Ravensburg.
Read below the report from our Finnish volunteer Antti Elolähde who travelled from Helsinki to support the German colleagues: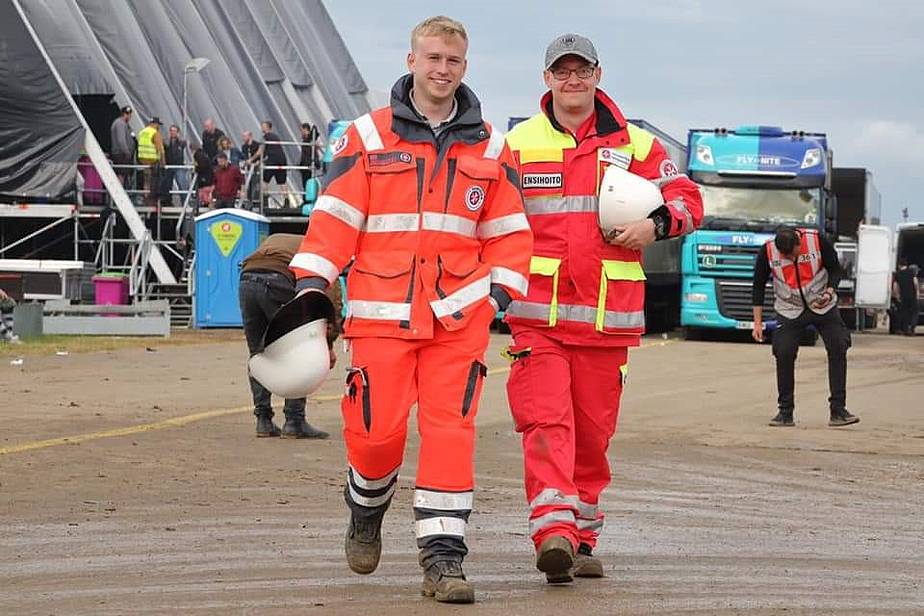 Day 1 Ravensburg
The official program of the first day was to get to know the local station in Ravensburg. At the station, the local Johanniter person in charge, Jonas, met us and showed us around and he also gave us our first beers in Germany. Ravensburg station is an active rescue station with a capacity of 37 cars of which two were manned at the time. The station received a priority call while we were touring, so my colleague from St John Ambulance England and I headed to the city.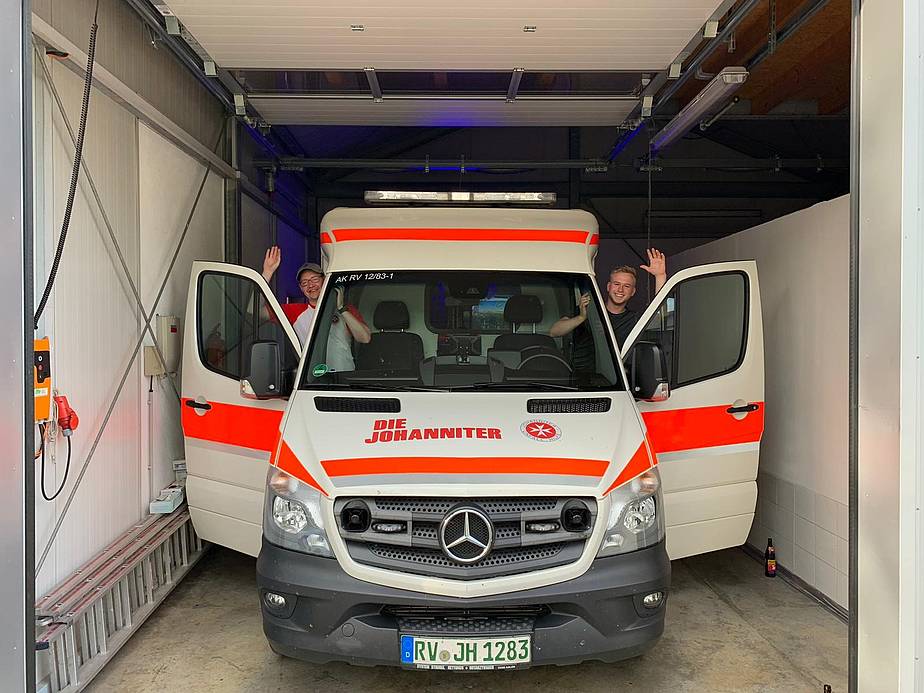 Day 2 Kisslegg
The day began around 10 am when we learned that we were going to the alps. The day's program would entail rock climbing, sleigh riding, seeing the Johanniter station in Kisslegg and a special program for us from the Volunteer Swap. In the Alps, we spent some time in a tree climbing park and raised our group spirit. After climbing about 3 hours we decided to have dinner and the first beer of the day. We left the Alps by mechanical sleigh, built on the slopes of the mountain. The whole ride was a memorable event and lasted over 30 minutes, the speed was breath-taking and a true testimony of German engineering. From the alps, we headed to the Johanniter station in Kisslegg, the smallest and newest in the Baden-Wurttemberg area. We got to know local ambulances and the local station crew. Most memorable was the electronic patient response system. It provided patient information to the hospital while the car was driving to the hospital. Our special program turned out to be our hazing, our welcoming program to see what we were made of. It entailed driving a German army Unimog in hazardous terrain. Our job was to drive the several-ton car up very steep walls.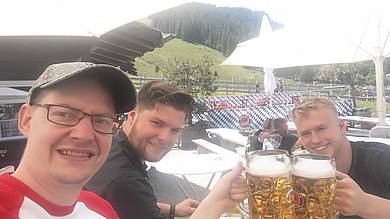 Day 3 Exploring
We started our day at 10 AM by touring and getting to know the city's lovely and old infrastructure. For the afternoon we headed to Friedrichshafen's Dornier museum where our other guide, Ellen, joined us. We got to improve our team skills by flying a simulator. After the museum, we headed to Lake Constance, a mountain lake that locals call their sea. It is located between the German, Austrian and Swiss borders. I could tell the Germans were proud of their lake, and we did not have the balls to tell them ours are bigger. We rented a boat from the harbour and headed to the lake for rowing and a swim.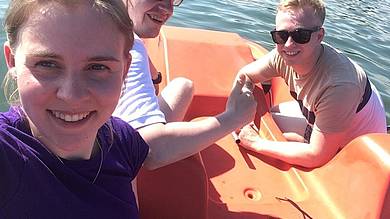 Volunteer Antti Elolähde who travelled from Helsinki to support the German colleagues:
Day 4 Festival start
We were picked up from the hotel at 5:45 AM and joined a motored convoy heading to the festival area. On the way, we took a group photo and headed to the staging area. Our base camp was in a school gym where the German ministry of the fire department (blue uniform) had set up a sleeping area for us.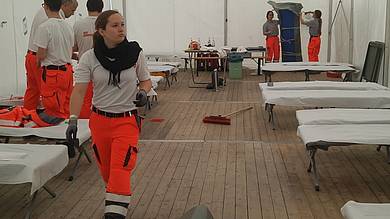 After we dropped our gear, we headed to set up our main treatment area OHS1. It was the main treatment area of the festival. We spent our first morning setting up our six treatment stations. The patients entered from the triage nurse station and were sent either to the ambulance (small trauma) station or t1/t2 (intensive care /recovery ward). Additionally, we set up our recreation tent and a tent for our gear. It took about 6 hours to set up tents and by noon just as the first performer started, we were ready for business. On the first festival day, we were stationed in the ti/t2 tents as Sanitätshelfer (assistant nurses). We cared for our patients along with our German counterparts. We also met patients and spoke to them while they awaited the doctor. At 8 PM, our shift ended and we headed back to the basecamp. There Germans had set up a bar just for Johanniter.
Day 5 Festival Fire baptism
We started our day at 7 AM with an amazing breakfast prepared for us before we headed to the shift change. First patients started to show up around 10:00 with mainly small bruises and cuts and a few had been throwing up. At noon we transferred to the ambulance station, which was the main treatment area for sunburns, small bruises and cuts, bandage changes etc. We worked as a team of three, Germans interviewed the patients and the foreigners treated the patients. Our patients were glad to meet foreigners who helped them with wounds. We got many thanks and pats on the back later.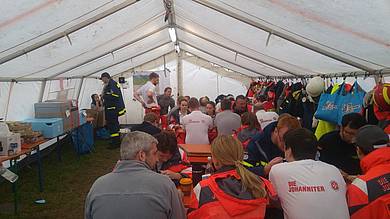 At 7 PM we were on duty for stage security. The job was clear and simple: Recognise the injured, transport them to the ambulance station or treat on site. While on the job, we could hear performers and meet the festival participants.  I believe we made a good impression on the people by being easy to approach and friendly. The only thing they were wondering about was our refusal of free beers on account of work ethic. 
My team got their baptism by fire as one of the festival participants suddenly lost consciousness. I observed from the side for a few minutes and as I saw there was no treatment being done to the patient, I decided to take charge and started ABCDE triage assessment. It was soon apparent that the patient was unresponsive and only responded to pain, so our main goal was to get him to the OHS 2 for better treatment.  My team supported me quickly and helped to evacuate the patient. Together we carried the patient away from the festival grounds into the treatment places. It was surprising how we got our baptism rather fast, and as a result, headed back into the concert.
As soon as we left OHS 2, we got our next patient: bottle to the head, minor lacerations. Definitely our job description- so we got her to the OHS2- At this point, we were transferred to the other side of the concert because we were the most Inexperienced team. But wherever we went, patients came to us. They saw us, trusted us and needed our help, and we were there for them. By now our team was working like a clock. After 16 hours of work, Matt and I decided we had done enough, so we said goodbyes to our team and set course for bed.
Day 6 Festival and concert
Since we pulled extended shift we got to sleep until 12 before we headed to our staging point OHS1. Our job schedule was patrolling festival grounds and assistance at the ambulance station. Because of our heroic acts of the night before (or due to the intoxication of festival attendance) we were extremely well received. Social calls, back pats, offered beers were coming on constantly, so we had to stop patrolling. The main reason was that festival participants were being too friendly with us, not understanding that Johanniter don't drink when working.  
After our shift at the station had ended, our German college asked us to join their festivities and we joined them. We were going to see the performance of "Die Toten Hosen" which turned out to be a big band In Germany. There were over 55 thousand people at the concert.
Day 7 Festival end
We started duty at 8 AM at the t1/t2 and the ambulance station. Patient numbers and injuries increased as the concert went on, but patient treatment quality and team spirit remained strong. Everybody still smiled, laughed, and cracked jokes. Additionally, many patrols returned with a patient. It started raining and the fields were muddy and soggy. The same applied to the patients and us. All boots were twice as heavy, and my pants were covered in mud. But all our patients were still getting treated. Mud and rain caused an increase in hypothermia cases. To our luck the performance for the last day was short, so we got fewer patients.  
As the festival was nearly over and our colleagues asked us t join a Mumford & Sons concert, which was awesome. We headed back to base camp at about 1 at night. At the basecamp (school) there was a closed bar waiting for us, and our team tutors found us some mild beverages that we enjoyed with the others. Someone called a kiosk cart filled with goodies to give us energy. The second stroke of luck was our team doctor who had found his misplaced beer. All 24 bottles at the same time, so knowing he could not drink them all he shared them with his team. The rest of the night was spent playing German games and talking, and taking care of the beer (-hey acting on doctors' orders). Our service was done and our last days' duty was to join our lovely colleague from Germany who would take us to the Stuttgart airport.
What was left in Germany were many new friends. What I brought with me was one of the best weeks so far, and I am missing them all already. 
Total patient amount from the festival
2687 patients treated
822 signed up for advanced treatment