At the Southside Festival in Germany volunteers from St John Ambulance England and Johanniter Finland provided comprehensive first aid at the event with their hosts Johanniter Germany. The two volunteers from England and Finland both participated in the Volunteer Swap for the first time and during their week in Germany got to know not only the structure and tasks of Johanniter Germany but also experienced the team spirit of the international Johanniter family.
Read below the report by the English volunteer Matt Wilson-Boddy: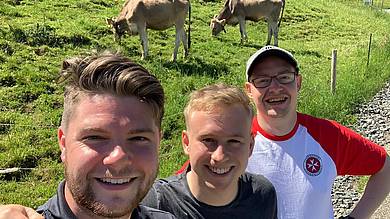 "Last month I had the exciting opportunity to visit our colleagues from Johanniter Germany as part of the Johanniter International Volunteer Swap to promote international cooperation with other branches of St John worldwide, and I cannot recommend the exchange enough.
The start of the week saw myself and Antti, another exchange volunteer from Finland exploring the area around Ravensburg in Southern Germany where we were able to tour the local ambulance stations as well as enjoy leisure activities such as tree climbing in the Alps and boating on Lake Constance. We were even able to go for a trip in the great Johanniter Unimog – a large all-terrain vehicle for extracting multiple patients from difficult situations.
Come the second part of the week, however, and we were as part of the team providing medical cover for Southside Festival – south Germany's biggest music festival. It was fascinating to see Johanniter Germany in action and experience where our practices overlapped and where they diverged. Working with 450 Johanniter as well as medically-trained volunteers from Germany's 4th emergency service – the THW – we treated 2,687 patients over just four days. Never once did we feel like spare parts – Johanniter were happy for us to get stuck in and to help us improve our German language skills, I was even able to provide them with some additional reassurance for native English speaking casualties!
Our hosts at Johanniter Germany made us feel more than welcome, going as far as to celebrate my birthday in the first aid post after I mentioned it to a colleague. I learned many things I feel will improve my practice going forward, and I was able to share information that I have gained from St John with members of the German Johanniter- I have made many friends I hope to keep in touch with, and I hope to keep learning from.
It feels fantastic to be able to say that when I refer to my colleagues in St John, I don't just refer to the dedicated volunteers we have here in the UK, but to the thousands of volunteers worldwide."