During the last September weekend, the Berlin Marathon took place for the forty-sixth time. For the thirteenth time, Johanniter Germany secured the race of 42.195 kilometres with medical service. The colourful diversity of one of the largest and most prestigious marathons in the world was also represented by the many Johanniter/St John professionals and volunteers from all over Europe that came to Berlin to join their German colleagues.
"With our great team from all over Germany, but also Poland, Austria, Great Britain and Ireland, we were always able to ensure that the athletes and spectators of the marathon received professional help in an emergency. I would like to say a special thanks to the many volunteers, without whom such missions would not be possible."
said Thorsten Behnke, Deployment Manager of Johanniter Germany and praised the excellent cooperation with other aid organisations.
The teams were present everywhere during the entire Berlin Marathon to give the athletes and spectators a good feeling and to be able to intervene quickly in critical situations. Mobile and fixed first aid stations secured the track and the finish line. In addition to that, ambulance cars, motorcycles and bicycle units were on site.
Together with the with four volunteers from Austria, twenty-one volunteers from England and Ireland and nine volunteers from Poland, the helpers were ready to initiate every first aid and life-saving measure in case of a medical emergency.
The Marathon was once again the biggest JOIN Volunteer Swap of the year. The cooperation with Joannici Dzieło Pomocy, Johanniter-Unfall-Hilfe Austria and St. John Ambulance has a long tradition in Berlin.
We think it's wonderful that the commitment at the Berlin Marathon meets such great interest from our international colleagues. It is always a great enrichment for us to work together with colleagues from Poland, Great Britain and Austria. The exchange is an excellent opportunity to get to know the different working methods and medical standards of different countries,".

Thorsten Behnke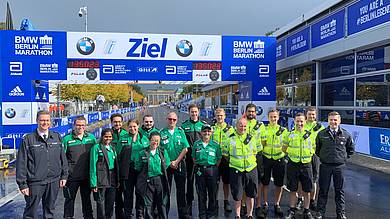 The cycle responders show that friendships between the international task force can develop with members of the Johanniter Berlin and St. John Ambulance Units London and South. The two units from Germany and Great Britain signed a partnership agreement in April 2019 as part of the London Marathon and have been working closely together ever since. The cycle responders of Johanniter Berlin are also on duty at the London Marathon.
By signing our partnership agreement, we want to take our cooperation to a new level through JOIN. We have common training and application standards and are in constant exchange to learn from each other.

Taylan Güngör, Regional Operational Cycling Lead London and South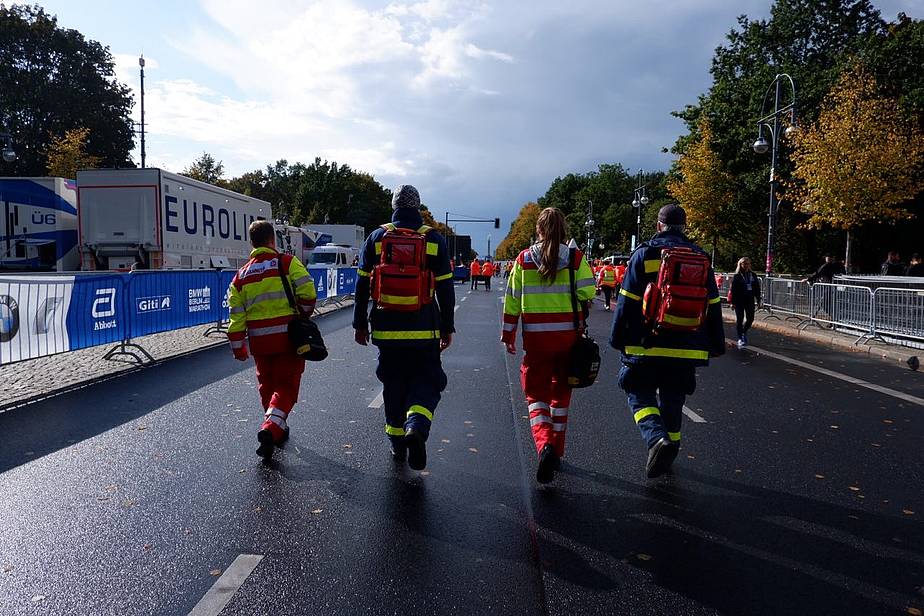 The Berlin Marathon is the biggest event of the year for the Johanniter in Berlin. Every year, about 500 volunteers are responsible for the medical coverage of more than 60,000 runners and inline skaters as well as about 1 million spectators.