Dr Willmore was installed as new Chancellor of The Order of St John, and Dr Brandstetter was made a Commander for services to JOIN.
On 8th September, Dr Gillian Willmore was installed as new Chancellor of The Most Venerable Order of St John at the Priory Church in London. Dr Willmore is the first woman in this role and also the first female Great Officer of the Order of St John. She took over from Patrick Burgess, who held the post with great distinction since 2014. The Chancellor of the Order has overall responsibility for fostering relations with other Johannine Orders, amongst other duties.
Guests of the service included representatives from JOIN, the German, Dutch and Swedish Orders, as well as the Sovereign Order of Malta. Due to the pandemic, the formal installation had been postponed for a year.
In her address, Dr Willmore underlined her "hope that the next few years of the life of the Order of St John and the Johannine Orders will […] give stability to human growth and the further establishment of a first aid model which will continue to bring life to thousands of people, accepting the voluntary giving of ourselves, our medically refined first aid understanding and our faith in God to increase humane compassion among us".
After Dr Willmore's formal installation as the Chancellor by the Order's Grand Prior, His Royal Highness the Duke of Gloucester, gave insignia to newly admitted and promoted members of the Order. Amongst them was Dr Robert Brandstetter, CEO of Johanniter Austria, who was admitted as a Commander into the Order for his ongoing support for international cooperation between JOIN members. Dr Brandstetter is also actively engaged in several JOIN working groups, and he is chairing the JOIN PR, Marketing and Communications working group with great success.
Johanniter International was represented by Chairman Johannes Bucher, who attended the event.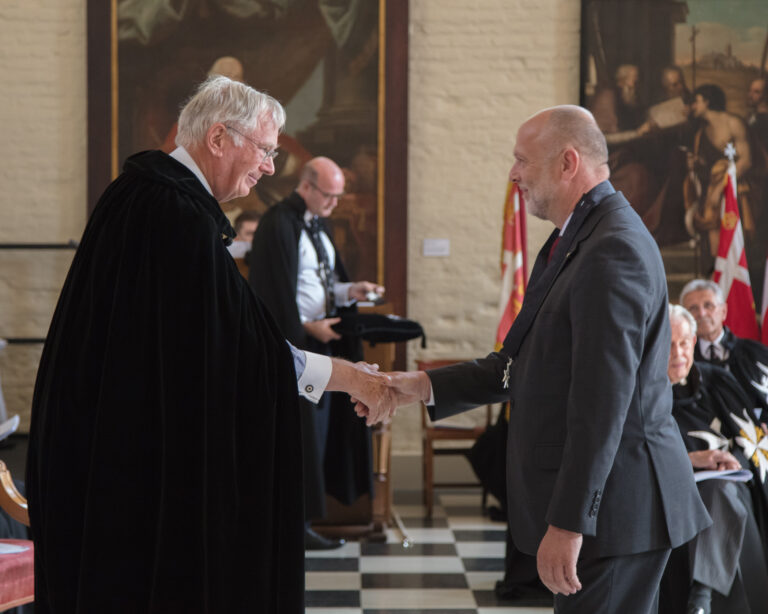 All Pictures by Rob Golding, British Ceremonial Arts Ltd