One year after the devastating cyclone Idai, the situation in Mozambique has only partially calmed down. Despite good harvest forecasts, more than one million people remain dependent on food aid. Johanniter International Assistance are supporting communities in the provinces of Sofala and Manica, where extreme weather conditions still endanger food production.
We live on the off-chance,"
says Luisa Juga, a 78-year-old farmer's wife from Manica in the western part of the country. She says that rain is now often accompanied by storms and thunderstorms. On the other hand, during the hot periods of the year rainfall is becoming less frequent. The results are low crop yields and malnutrition.
There is a general agreement that only an exceptionally good harvest can prevent an upcoming hunger crisis, but there is little hope for this to happen."

says David Prieto, Johanniter Country Director in Mozambique.
Only in February heavy rainfall caused severe flooding in central Mozambique. In the south of the country, on the other hand, there is an enormous drought. The consequences are higher food prices, which especially affects poor families. However, according to the Famine Early Warning Systems Network, there are plans to stop humanitarian food deliveries in March. "The people need further support to achieve complete self-supply," emphasises Prieto.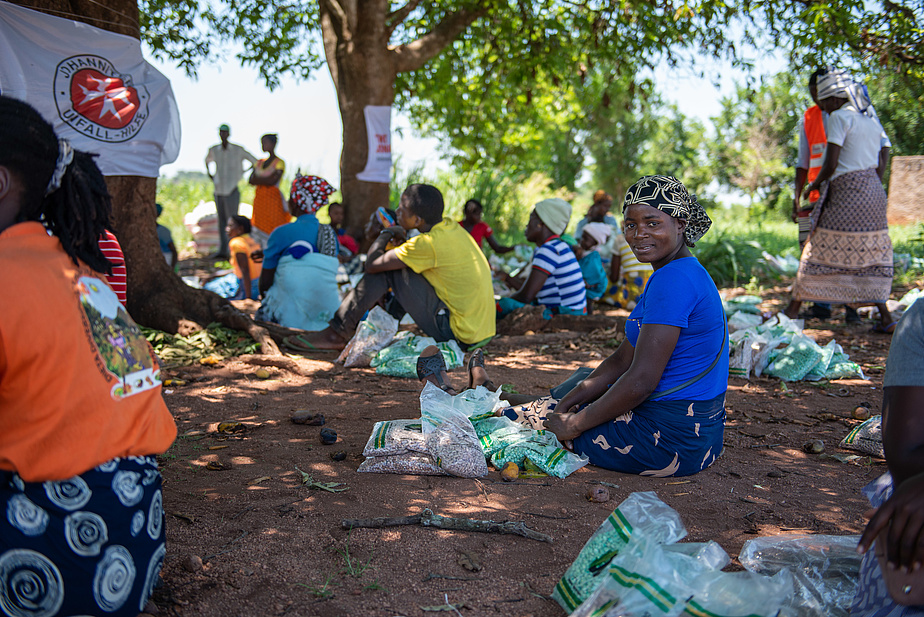 Johanniter International Assistance who have been active in Mozambique right after Cyclone Idai last year, have been supporting 27,000 people since the start of the year with 28 tons of seeds such as maize and beans, as well as tools for planting the fields and training. The local partner organisations Esmabama and Kubatsirana are implementing these activities with the aim to use appropriate cultivation methods to increase resistance to future crises. In addition, 250 latrines were built in the city of Beira, and medical care was improved in the Buzi district. A total of 62,000 people have already received assistance from Johanniter.
Background
Cyclone Idai had swept across Mozambique in the mid of March with wind speeds of up to 200 kilometres per hour, leaving a trail of devastation in its wake. Hundreds of people died, thousands became homeless, and whole regions were completely flooded. Immediately after the cyclone, Johanniter International Assistance were on the ground with a total of 23 volunteer emergency aid workers, including doctors, paramedics, and logistics specialists. They provided basic medical care for about 17,000 inhabitants in the remote district of Búzi. After the emergency relief, Johanniter International Assistance started projects to support the reconstruction in the region.