On 17th and 18th August, the British Firework Championships were held at Plymouth Harbour. In the competition, six of the leading pyrotechnic companies created 10-minute displays each over the harbour to be crowned the Champion. The creative displays lighting up the sky created a fantastic atmosphere and attracted over 40,000 spectators. Within the Volunteer Swap programme, Susann Kraft from Johanniter Germany's rescue dog unit, travelled from Karlsruhe to Plymouth. There she joined the team of St John Ambulance, which provided a treatment centre, foot patrols and ambulances across the two-day event. Read her report below:
"Family, I'd say…
It's already Friday and I'm on my way home.
Time flies, they say, and I silently nod… people next to me chat away on the train from Plymouth to Paddington. My head and my heart are both filled up with memories, only good ones at that. Those past four days with the St John Ambulance people in Plymouth were a  special and unique experience. 
As a volunteer of Johanniter Germany, you might be quite used to this feeling of being part of the big Johanniter family, but I can tell you now: it is even more precious to feel the same abroad!!!
When I arrived on Tuesday afternoon, Abby, one of the volunteers of St John Ambulance (SJA) in Plymouth, picked me up at the train station and instantly made me feel welcomed. We went to the hotel, I just grabbed my rain jacket, put on my walking shoes and off we were again to explore Plymouth, this beautiful seaside town with its scenic streets, historic places, the harbour, the sea… we watched boats going in and out in the drizzling rain and all the while we were talking about everything and anything inside and out of SJA. It was lovely.
We had dinner at the hotel, and I met Ben, another volunteer with SJA Plymouth. Both Abby and Ben are advanced first aiders and emergency ambulance crew, and they had quite a few exciting things to tell about their work with SJA.
Next morning, I woke up to seagull screeching (nothing better to remind you that you are close to the ocean!) and after breakfast, I decided to go for a nice walk up to Devil's Point and was rewarded with a beautiful sunny view down to the sea.
I met up with Abby and Ben around 4:15 pm and they took me to The Hoe, the venue of the famous British Firework Championships. With my uniform, being the one bright orange "flag" in between all the green and black uniforms / yellow hi-vis vests of SJA, I felt a bit odd at first, but all those friendly people gathered at the treatment centre for the final briefing made me (almost 😉) forget about visibly standing out. 
During the evening, I had the chance to meet and talk to many different people from Plymouth, the whole southwest of the country, and beyond. I heard so many interesting stories, told my own one or two things about the work of a search and rescue dog squad, kept asking questions about how everything worked with providing first aid to the public during events and more. As a foot team with Alyson and Ptolemy, we were assigned to provide first aid to the people along the fun rides and park. When the Fireworks started at around 9:30 pm, we were presented with a wonderful view along with 40.000 other people there. Stand down was around 11:30 pm. 
To be honest, there was one special thing I planned to do since I knew I'd go to the Devonshire area: it was, of course, having cream tea!!!
I know, it's quite a touristy thing, but scones and jam and clotted cream is such a tasty combination. Abby and Ben knew just the right little picturesque cafe at the Barbican, and again it was such a lovely Thursday afternoon.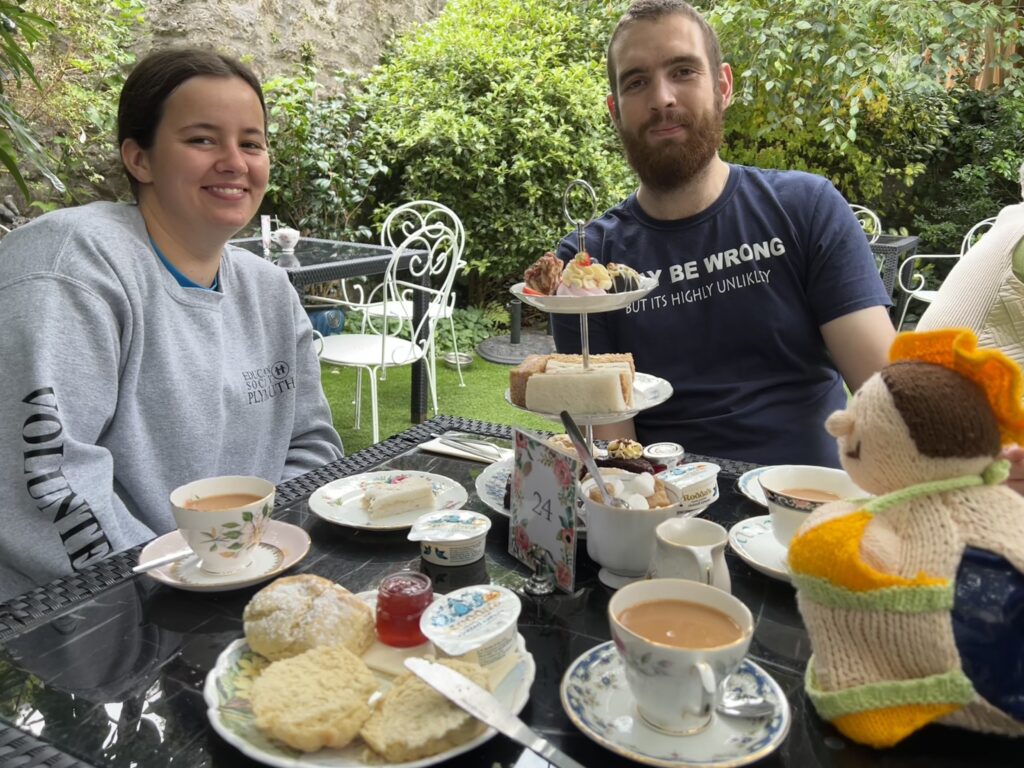 On Thursday evening, I was assigned with Ben and Robbie to form a foot team, and together, we kept a close look at all the excited kids enjoying their carousels, rides and games in the kids' area. Again, we were able to watch three fantastic firework displays. As the evening went on, the medical backpack with all the first aid equipment got heavier by the minute (we took turns, of course 😉), drizzling rain kept us company again as it had for almost the whole evening. (We didn't care much about it, though, and my beloved orange "flag "kept me quite dry, I have to admit.) Stand down was around 11:30 pm again. Falling face down into the comfy hotel bed had never felt better… ✨
Now my train is about to arrive in London, and I will catch my flight home. (I might have written a few more words than I intended…)
So I'll just close with that:
I am so thankful; I totally am. 
Also deeply moved by the kindness of all the people I met.  And especially Abby and Ben: you are amazing, guys!!! 
It was a wonderful trip to the UK, to the St John Ambulance family, a precious adventure that will reverberate for a long, long while within my head and my heart. ♥️"