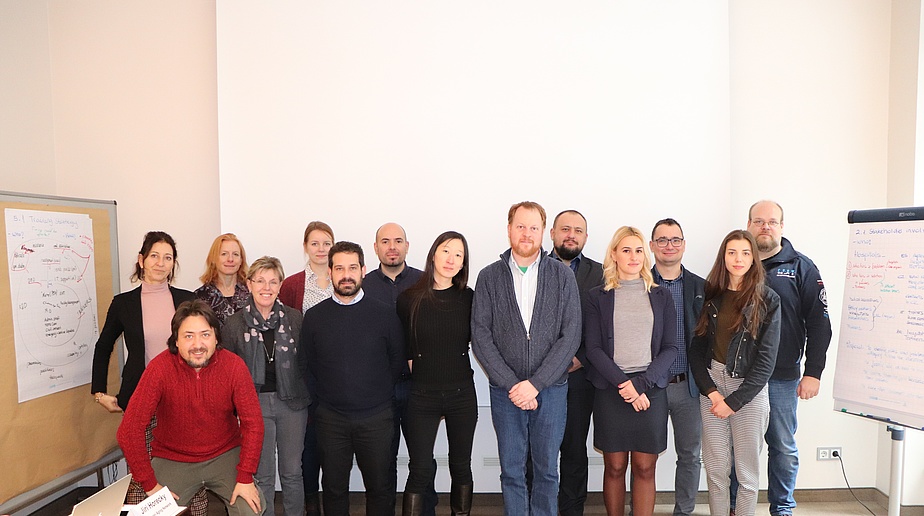 From 24 to 25 January, the consortium of the SecureHospitals.eu project held its initial face-to-face meeting in Vienna. The team of the Austrian company Interspread welcomed 19 participants from the 7 partners for a two-day strategy planning and workshops to raise cybersecurity capabilities in the health sector.
The first day started with an introduction of the project partners, staff members and an overview of the project structure. This was followed by presentations of the leader of each working package that showed their plan to involve more hospitals and practitioners in the project through the online hub; aim is also to aggregate existing knowledge and approaches on cybersecurity. The partners presented ways to create structured training schemes for hospital staff and trainers and approaches to boost training initiatives through the integration of providers and courses. This proved as a challenge, as the implementation of trainings differs depending on the respective national regulations. Lastly, the partners discussed about their communication plan and set out quality standards as well as an agenda to raise awareness on project activities and promotion of the information hub.
Day 2 of the meeting was dedicated to working sessions in which all partners engaged in brainstorming and moved forth with their strategy planning. The first working session focused on stakeholders mapping and involvement. The JOIN Office led the workshop on the first training strategy and presented ways to best reach and address the relevant stakeholders in order to permanently integrate them in the project. The second working session let the partners discuss the specific first steps to take in each working package and also framed the legal requirements of the actions.
The kick-off meeting facilitated the teamwork among the consortium and will be followed by conference calls every two weeks to ensure meeting the milestones. The next face-to-face meeting of the consortium is planned to be held in Ancona, Italy, at the end of May.