Berlin, Germany  24th – 25th September
More than 45,000 runners were on the road during the last September weekend at the Berlin Marathon. With around 300 helpers from all over Germany and Europe, Johanniter ensured their safety along the course, which was exactly 42.195 km long. All participants, whether on the running course or in the spectator area, could rely on always receiving immediate help in the event of a health problem. Because the skater marathon was also organized alongside the runner marathon, the operation lasted the entire weekend.
19 Austrian and two English volunteers travelled to Berlin and jointly provided first aid to runners and visitors as part of a team at the medical points.
Jake Carpenter from St John Ambulance joined his German colleagues at one of the biggest running events in Europe. Read the report of his Volunteer Swap experience below: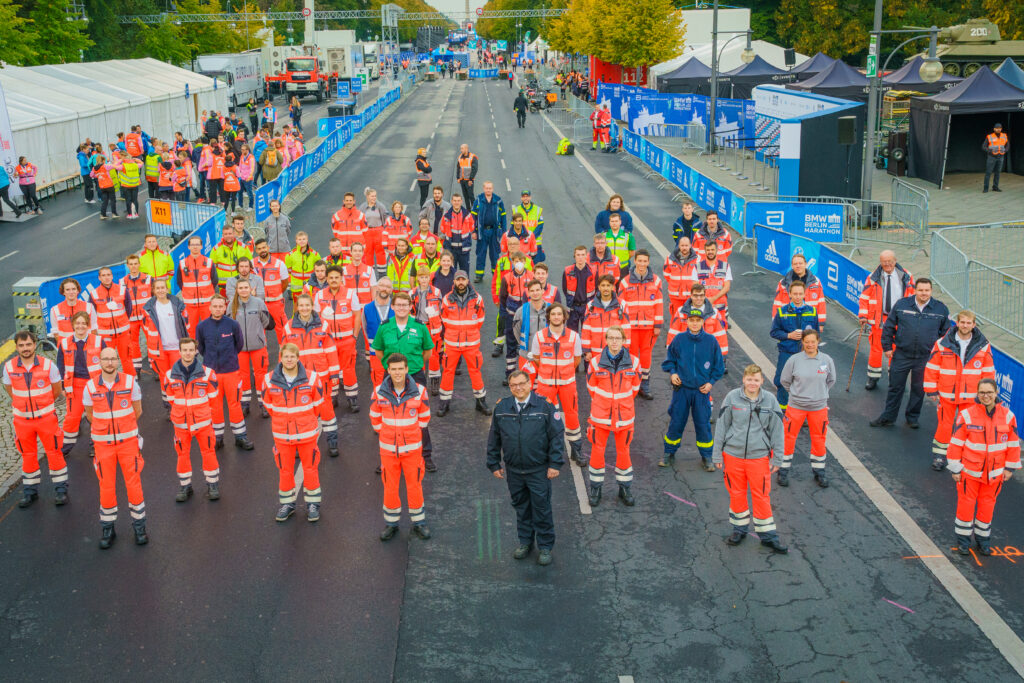 "My weekend started on the Friday, when I landed in Berlin early to do a bit of sightseeing. Both Gatwick and my plane were packed with Marathon runners, many of whom were sporting jackets and shirts of other major events, such as Boston, New York, and London. I overheard lots of speculation about the potential for a new World Record (possibly even under 2 hours) due to the perfect conditions and the participation of Eliud Kipchoge, who had previously managed the feat in controlled conditions and owned three out of the four fastest marathon times in history already.
I started off looking around Berlin alone, before meeting up with Lukas, a Johanniter volunteer who had helped set up the exchange and I had met a few weeks earlier at Operation London Bridge (during the events held according to the funeral plan for Queen Elizabeth II). As well as giving me a tour of the city – and taking some photos of me for Instagram – we discussed how he had been involved in the JOIN programme for some time, and how it led to the set-up of the German Cycle Response Unit (CRU).
Saturday and Sunday were event days. My colleagues were so welcoming and I was lucky to meet so many great people over the course of the weekend. Special shout out to my new Austrian friends who had also travelled to attend the event, some of whom are pictured with me here.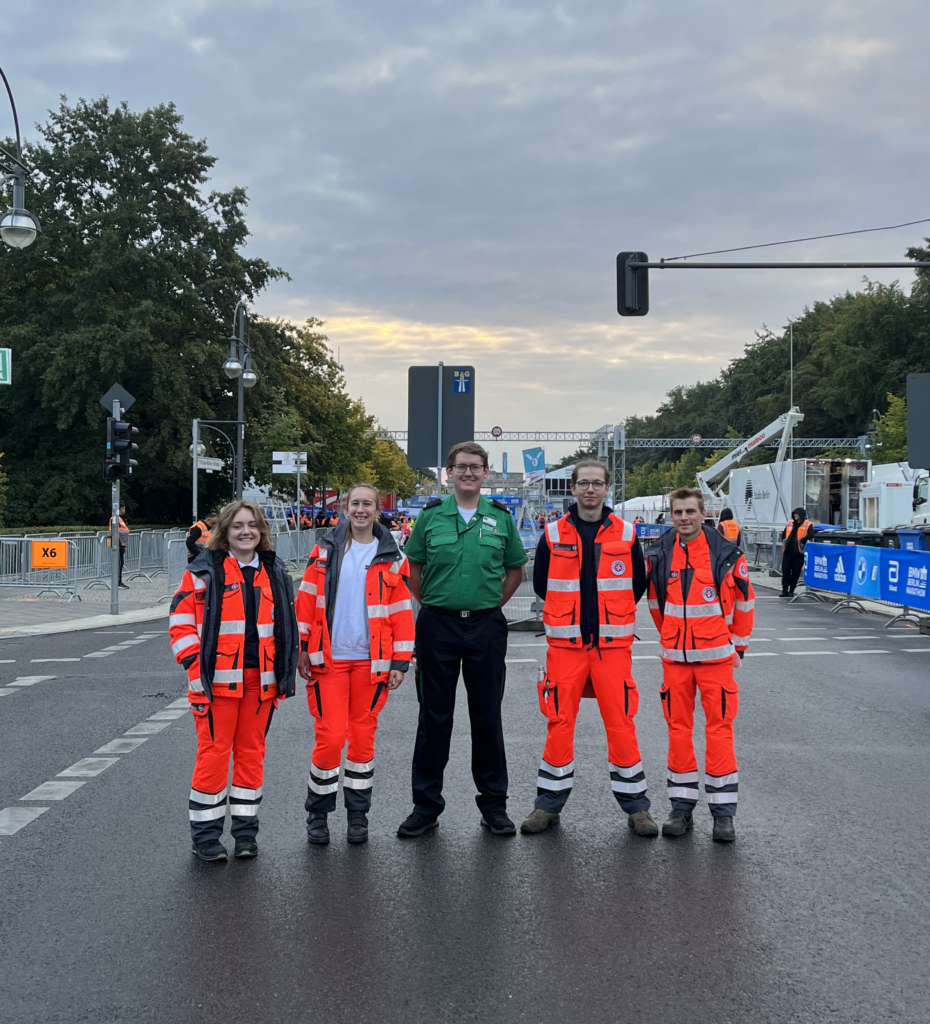 I had learnt German at school and taken Duolingo lessons in the run up to my visit. Unfortunately, no one asked me if my brother was at the library, so it didn't come to much use. Though, a lot of my colleagues and patients were bilingual or English speakers, so I don't feel language was an issue at all during my stay. My help translating was needed though – predominantly with American runners who couldn't understand English in a German accent – and I was asked to switch patients / come and interpret on three occasions.
There are lots of similarities between the way St John Ambulance and Johanniter Germany run events, but also a few differences. Some of which I found interesting, some rather odd!
For instance, when I was looking through the equipment, I noticed there were no Paracetamol tablets, which was because medication could only be given out if agreed by a Doctor. I did, however, also notice several bags of IV Paracetamol, because my German counterparts were all trained in cannulating. I declined the opportunity to learn but did watch a few get done. From discussions I had, German volunteers were far higher skilled than English volunteers, with their lowest level probably being most similar to our Emergency Ambulance Crews (EAC). In the UK, I think the equipment I use most are adhesive dressings, which were also absent from the German first aid kits. Luckily, due to my volunteering with Cadets, I have more experience than most in covering people in bandages, which came in very handy on the day of the skating marathon!
My favourite difference was the stretchers (pictured). I am not sure they were the most comfortable rides – and probably wouldn't want to use one to transport a patient with suspected spinal injuries – but they were very fun to use and weave in and out of the crowds. Much easier to manoeuvre than the ones back home, too.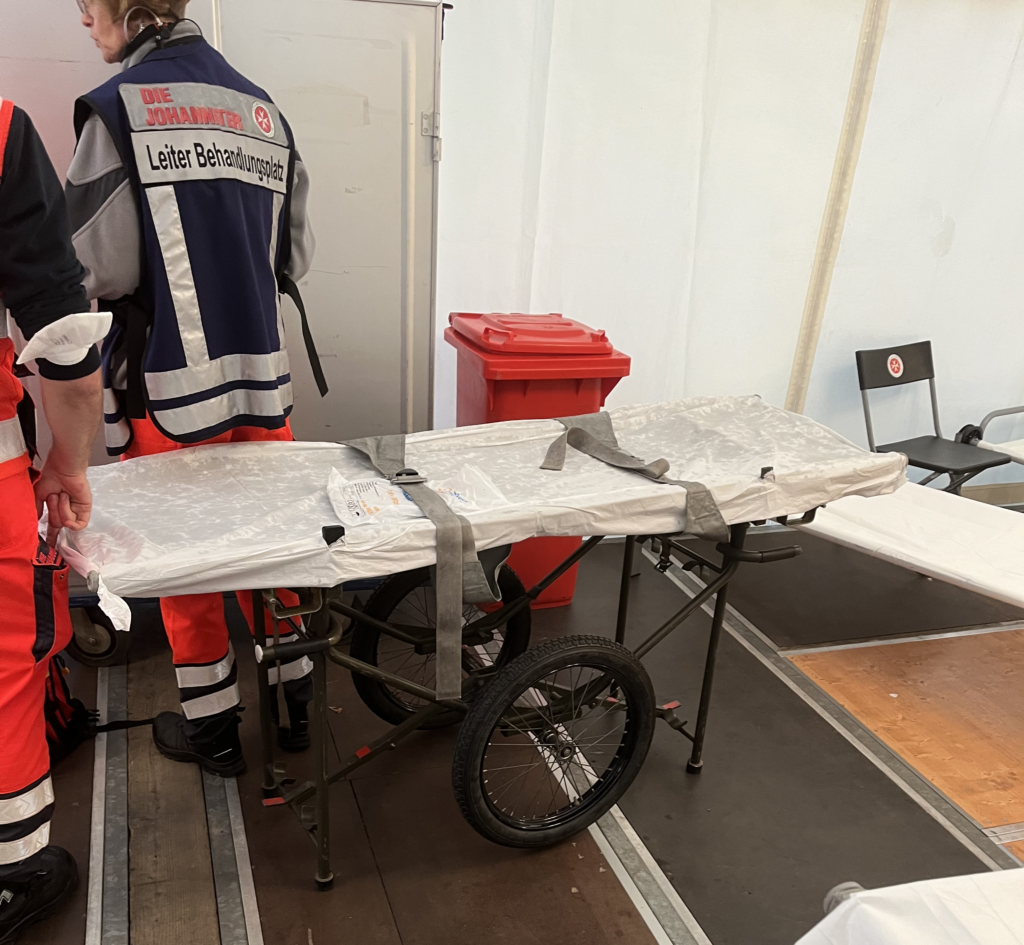 I also loved the uniform. If I am ever asked to take part in a consultation about ours being redesigned, I will definitely be recommending the vest and trousers which, as well as being a very fetching colour, are apparently very comfortable, have much better pockets, and thick knee pads built in.
I loved my trip to Berlin. I would recommend that anyone who is interested gets in touch with JOIN to sign up to this or another of the opportunities across Europe, and I would love to host international members at any of our Events here in England. And yes, Eliud did set a new World Record – I was even able to witness him crossing the finish line!"