Vienna, Austria  21st November 2022
Johanniter Austria offers the opportunity for volunteers of all JOIN members to participate in the Acute Care Service and Ambulance Service all year round.
Medical student and volunteer first aider Myurri Lohesan from London visited Johanniter in Vienna as part of the JOIN Volunteer Swap programme. During her stay, she was able to learn about the work of the Acute Care Service and Ambulance Service in Austria.
From 14th to 21st November, 25-year-old Myurri Lohesan visited our Austrian member in Vienna. During her stay, she supported the teams of the Acute Care Service and Ambulance Services. Through the Volunteer Swap programme, all volunteers can get to know the international Johanniter/St John community and discover areas of work that are not offered in this form in their home country.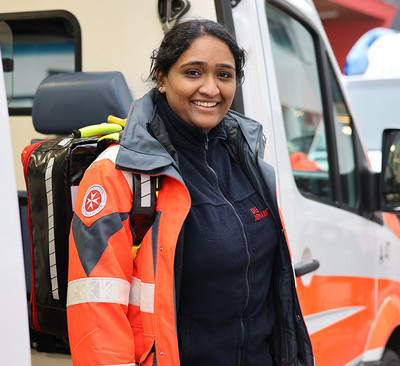 I chose Vienna because Johanniter Austria offers services here, such as the Acute Care Service, that are not available in our country."
Myurri is volunteering with heart and soul. In her hometown, she is a first aider for St John Ambulance and also part of the charity organisation "in2medschool," which helps socially disadvantaged students apply to medical school. During the COVID-19 pandemic, she volunteered at the hospital, lending a hand to the nursing staff. She also did her part in assisting with the COVID-19 vaccination campaigns. Joining St John in 2015, Myurri completed first responder training and advanced first responder training with the organisation.
During her visit, Myurri also noticed some differences between Johanniter Austria and St John Ambulance in England: "In Austria, the rescue service is a bigger part of the organisation. In London, we focus more on paramedic services at events. The levels of training are also different." In Austria, the first level is training to become a paramedic, while in the UK there are also levels of training below that, such as first aider. While many volunteers in Austria are young and start around the age of 14 or 15 years, in the UK, the youngest are called cadets and can start as young as ten. Cadets are trained in first aid and can later support first responders at events.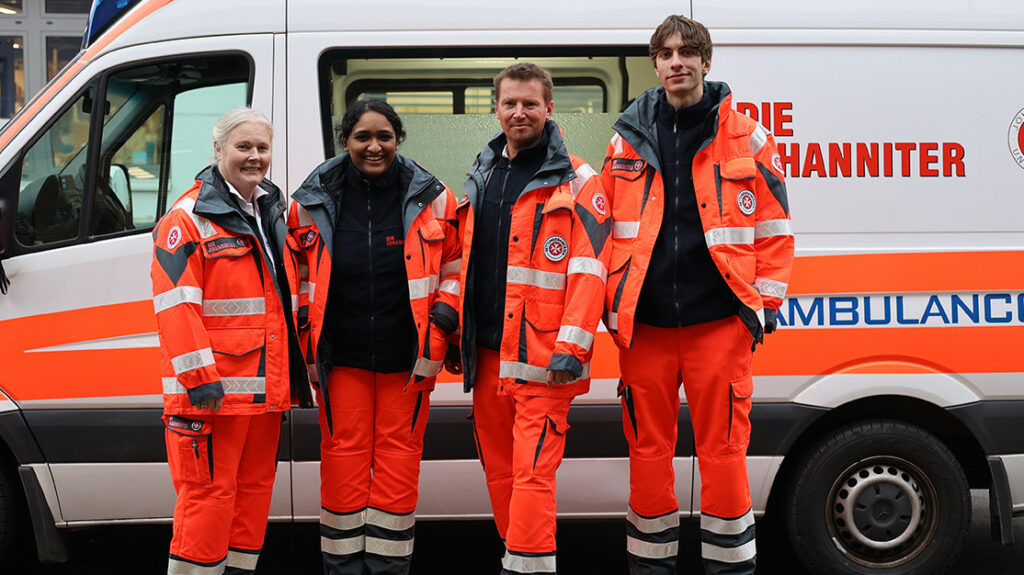 For Myurri, this visit to Vienna was her first time participating in Volunteer Swap. "I would definitely recommend participating in the programme. This experience showed me that St John is a great international community," she explains. Myurri sees the programme as a great way to learn about other countries and to see St John from a new perspective that she would not have discovered otherwise. In the future, she would also like to visit other countries, such as Germany, because many major events take place there.
"I really enjoyed my time in Austria. Everyone welcomed me very nicely, and I also had the opportunity to see the special architecture of the city. Some corners of Vienna also remind me of London. I especially liked the Hofburg and the opera," Myurri says enthusiastically.